The modern Mulago Maternal and Neonatal hospital is now open. The expectation is that it will reduce congestion at the national referral hospital, Mulago.
on 02 October 2018 – The President of Uganda, His Excellency, Yoweri Kaguta Museveni commissioned the newly constructed Specialized Women's and Neonatal Hospital.
Situated on Mulago Hill and serves as a center of training, research, and medical development, the 9 story facility will offer world-class maternal and neonatal care to all mothers and babies in Uganda and will contribute to a reduction in the high rates of Maternal and Newborn Mortality in the country.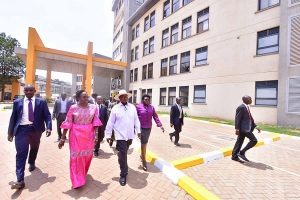 President Museveni called upon the public to embrace simple preventive measures and avoid coming to the hospitals. "A lot can be achieved through behavior change, good nutrition, sleeping under a mosquito net to avoid Malaria and proper hygiene," he said.
President Museveni noted that the construction of this facility will bring an end to Medical tourism that the country has been facing over the years.
Cases
The new complex has been planned to handle high-risk antenatal cases, offer top-of-the-range post-natal services, modern operation procedures such as hysteroscopy and urogynecology, especially obstetric fistula that involves pelvis reconstruction and in vitro fertilization (IVF).
As is now known, IVF involves extraction of female eggs and a sperm sample, and then manually combining them in a laboratory before implantation in a woman's womb.
Eldakdoky spoke confidently of the 450 beds and 11 operating rooms, intensive care units (40 beds), recovery sections (25 beds), children's nursery section (50 beds), oncology department (80 beds) and high-risk delivery sections (170 beds).
Others will include emergency departments, laboratories, a blood bank and morgue, radiology, examination and physiotherapy departments.